Fabric Reinforced Diaphragms
Fabric Reinforced Diaphragms
General Description
Fabric-reinforced diaphragms utilize a layer of an engineered fabric material as part of the diaphragm construction. This layer of fabric gives tremendous design flexibility. A very thin-walled Rolling Diaphragm can withstand high pressures while remaining very flexible and responsive to minor pressure variations.
Fabrics made of polyester, nylon and silk are commonly used for most applications with Nomex fabric used for those applications exposed to high-temperature. For those applications that require extremely high-strength material, resistance, diaphragm, DiaCom offers our unique Dia.Tuff fabric.
All types of elastomers, such as, nitrile, EPDM, fluorocarbon, neoprene, silicone and fluorosilicone can be used in the fabric-reinforced diaphragms.
Fabric-Reinforced Diaphragms Offer:
Positive Seal
Low Spring Rate
No Lubrication
No Breakaway Force
No Friction
High Strength
Functionality Over Wide Pressure Ranges
Low Cost
Simple Design
Versatility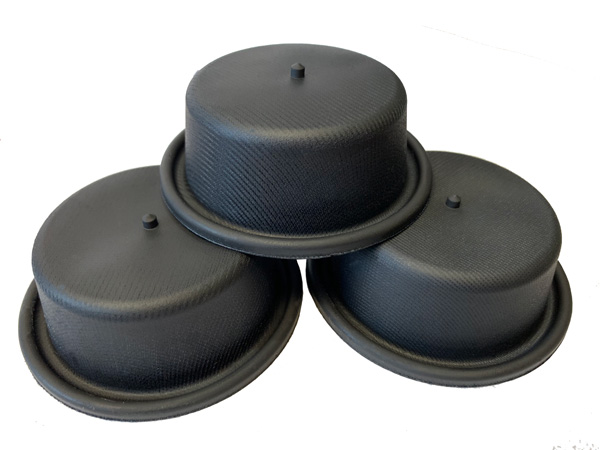 For Product Inquiries & Information Only: